car
Vinfast introduces a range of electric car products and smart technologies at CES 2022
On December 16, VinFast Business, Trading and Services Co., Ltd announced that it will participate in the world's most influential Consumer Electronics Show CES 2022 (January 8, 2022); at the same time launched a complete product range, spreading the A-B-C-D-E segments.
This is the next step on the journey to conquer the "future of mobility", contributing to strongly promoting VinFast's global electric vehicle revolution.
At CES 2022, VinFast continues to deliver the message of the future of "destination: future" mobility, as a way of continuing the journey that started from Los Angeles Auto Show 2021 (LA Auto Show).
The highlight of VinFast at CES 2022 is the complete range of electric vehicles announced for the first time to the public, with 5 models covering most market segments. In which, VinFast introduced 3 completely new, never-before-seen models in the A-B-C segment. The remaining two models of the D and E segments were introduced at the LA Auto Show in November 2021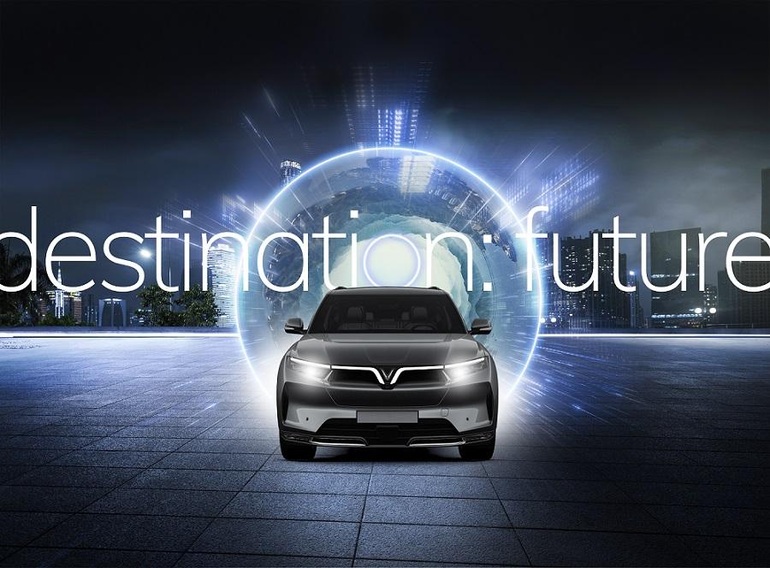 With the participation of two famous design firms, Pininfarina and Torino Design, all VinFast models at CES 2022 have an impressive and trendy appearance. Pininfarina and Torino Design use modern design language to optimize aerodynamics; while creating a comfortable driving experience, while promoting aesthetics, expressing unique personality traits, corresponding to each segment.
VinFast smart cars will be equipped with advanced driver assistance features (ADAS) such as lane keeping assist, collision mitigation, driver monitoring, automatic parking and smart vehicle summoning… In addition, smart utilities (Smart Services) such as voice control of cars with natural language, intelligent virtual assistants, connection of e-commerce applications, services… will also bring exciting travel experiences for customers.
VinFast will also demonstrate a number of smart features developed by VinFast engineers and leading industry partners in the field of automotive technology. Within the framework of the event, VinFast will announce strategic cooperation with the world's leading partners and companies possessing breakthrough technology, jointly developing "technology for human sake", bringing interesting experiences. and optimal utilities for every journey in daily life.
In addition to the VinFast electric vehicle range, advanced technologies and applications of artificial intelligence (artificial intelligence), big data and machine learning are developed by member companies of VinFast. Vingroup such as VinAI, VinBigdata, Vantix and VinBrain will also be introduced at CES 2022.
Ms. Le Thi Thu Thuy, Vice President of Vingroup, shared: "VinFast will bring to CES 2022 world-class designs, advanced technologies and a diverse range of products to global customers. We are making great efforts. creating more convenient and easier options for users, to accelerate the transition from gas cars to electric vehicles, for a sustainable future for our planet."
Welcoming the only electric vehicle brand from Vietnam, Ms. Karen Chupka, Vice President of CES said: "Technology is becoming more and more important in life and CES is the global playground for brands to perform. efforts in accelerating this trend.The vehicle and transportation technology exhibition at West Hall will mark a new milestone for CES 2022. We are excited to welcome our first presence. of VinFast at the show, to join us in writing this story through their bold vision – to be the brand that drives the global smart electric vehicle revolution."
Previously, Vingroup also officially announced the groundbreaking of a battery factory in Vung Ang economic zone, Ha Tinh, affirming its determination in the strategy of building VinFast to become a global smart electric vehicle brand.
VinFast will share new news and upcoming plans of the global electric vehicle brand and its strategy to realize the future of mobility at the event on January 5, 2022 (Las Vegas time), at exhibition booth #6043 (West Hall), Las Vegas Convention and Exhibition Center (Nevada, USA). Audiences can accompany VinFast and follow event information at
http://vinfastauto.com/CES2022