Uncategorized
Asian fans: 'Why didn't the referee kick the Thai goalkeeper?'
TTO – Many Asian fans have criticized the Qatari referee Adba for being too light-handed in many situations of Thailand's fouls, the highlight of which is the goalie's phase out of the penalty area to foul Van Toan. Chatchai Budprom at 43 minutes.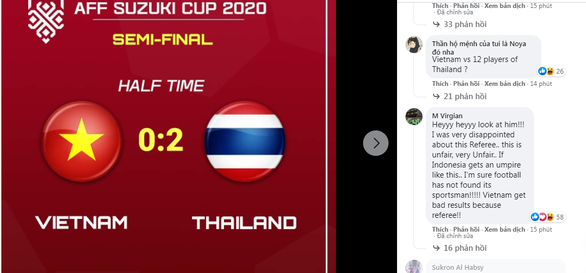 Although the match has not ended, but on social networks, there have been many comments criticizing the Qatari referee Adba for being "lighthearted" in many Thai fouls.
In which, the referee "ignored" the cold beating situation of defender Theerathon Bunmathan, then only showed a yellow card to punish goalkeeper Chatchai Budprom in the phase of rushing out of the penalty area to commit a dangerous foul on Van Toan.
Indonesian fan M Virgian wrote: "I am very disappointed with the referee in the match between Vietnam and Thailand. Indeed he is very unfair, with too many decisions to be lenient for Thailand".
Fan Alif Farhan from Malaysia was also surprised by the referee when he commented: "Why did the goalkeeper rush out of the penalty area to foul the opponent in a situation that could lead to a goal and only get a yellow card? ? The referee really has nothing to say."
Alvin Yap fan also commented: "Thai goalkeeper should get a red card in a situation where he pulled the Vietnamese striker out of the box. Why are matches like this always destroyed by the referee? Maybe VAR is needed. in this tournament".
Meanwhile, Vietnamese fans are also very angry and strongly criticize the referee, many people are racing to find the Qatari referee's Facebook page to "ask black and white".
On the occasion of the Vietnamese team's participation in the Southeast Asian Championship (AFF Cup) 2020 in Singapore, Tuoi Tre newspaper coordinated with Hung Thinh Land Joint Stock Company to organize a contest to predict the AFF Cup Champion 2020.
Readers participating in the contest have the opportunity to show their passion, understanding of football, love for the Vietnamese team and receive many valuable prizes.